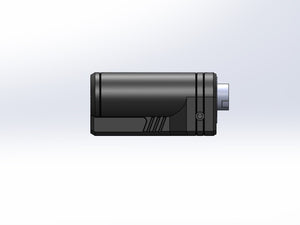 FTEC1 SCAR Barrel Digital Files (DISCONTINUED)
This listing is for a Digital Download. No physical parts or blaster will be shipped to you. No Refunds, Returns, or Cancellations on this product. All sales are final.  Do not distribute files. 
THIS BLASTER IS NOW DISCONTINUED. The new version is available here.
This is the Digital STL File set for the FTEC1 SCAR Barrel Muzzle Device. You will need an FTEC1 SCAR Barrel Hardware kit (not included) to assemble this. Hardware kit is available here. If you are not using the official hardware kit, make sure you use 0.18-0.2mm thick fishing line. This is very important.
The FTEC1 SCAR Barrel Muzzle Device massively improves the accuracy of your FTEC1 blaster with minimal impact on muzzle velocity. The SCAR barrel has six strings that act as rifling and centers the dart in the barrel. It also features a built in air stripper that redirects excess air away from the dart and reduces muzzle blast. The SCAR barrel is housed in a protective SCAR shroud so you don't have to worry about accidentally damaging the strings during gameplay.
3D Printer Required Build Area: 90mm Build Height, 50 x 50mm Build plate

File Format: .zip
Included Files:

 SCAR Barrel, SCAR Shroud, SCAR String Clamp (STL)
Printing Instructions (PDF)
Assembly Video: 

SCAR Barrel Test Video:

Notes:
An email with the download link for the files will be sent to you after payment is confirmed.
You will need to manually orient the parts in your Slicer software before printing.