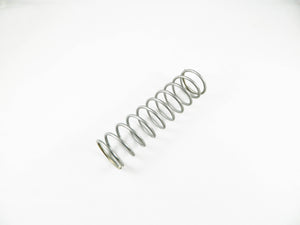 FTEC1 Main Spring
Compatible with The FTEC1 Gen1 and Gen2 blaster.
This is the main spring for the FTEC1 Blaster. Available in 3 different spring weights.

8.5kg (Roughly 150+ FPS) 
13kg (Roughly 200+ FPS)
16kg (Roughly 230+ FPS)
Spring weight recommendations
8.5kg Spring: Priming weight and performance is basically the same as a DartZone Nexus Pro blaster.
13kg spring: The Ideal spring weight for most people. Has a light prime and most people except children will be able to prime this spring without any issue. 
16kg spring: Recommended only for those who are familiar with higher power spring blasters. The prime is not too hard if you have the correct form while priming the blaster i.e. your priming arm elbow is tucked inline with the blaster.  

What you get:
1x FTEC1 Main Spring