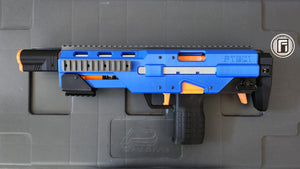 FTEC1 Gen2 Blaster Prebuilt
Introducing the FTEC1 Gen2 blaster- the latest and greatest addition to the FTEC1 family. This compact blaster is packed with features and upgrades that are sure to impress.
This listing is for a fully assembled blaster. The blaster comes with a 13kg spring installed and includes a SCAR barrel. 
Improved Durablility: 
The all new airbrake system on the plunger in addition to the silicone buffer pad makes this blaster completely dryfire safe. 

The new catch plate is made of hardened stainless steel and rides on hardened stainless shafts for a reliable catch system that is built to last. 
The catch block now has bearings that prevent it from rubbing witht he inside of the shell.
TPU buffer prevents priming mechanism from overstroking and hitting the front of the shell.
TPU spring pad prevents wear on spring spacer stack and catch block faces.
Higher quality screws are used and all screws required for regular blaster maintenance use heat set brass inserts.
Easier Maintenance:
Greatly reduced the number of screws required to disassemble blaster for maintenance.
Features an interlocking pin system for most of the internals instead of screws.

Improved Ergonomics:
The auto-deploying butt stock is thinner and features multiple indexing points for adjustable length. 
Features vastly improved grip ergonomics and an ambidextrous thumb mag release.
Added quick disconnect sling points.
 Greater Compatibility:
Adjustable FPS using an integrated spring spacer system.
Compatible with a wider range of springs.
Compatible with Talon, Curved Talon, Tachi, and Kodachi magazines.

Compatible with 5/8" and 16mm barrels.
Alternate spring options sold seperately.

8.5kg Spring (Roughly 150+ FPS) 
13kg Spring (Roughly 200+ FPS)
16kg Spring (Roughly 230+ FPS)
What You Get:
1x FTEC1 Gen2 Blaster (13kg)
1x SCAR Barrel
1x Basic Muzzle
1x set of tools and replacement parts
1x Alternative Plunger head